Solid-state laser light sheet
The laser light sheet is designed for visualisation and measurement of fluid flow. It is a unique, custom-made, compact, portable system of long-time operation. It employs a high power Nd:YAG laser of adjustable power as a light source and generates a beam which is treated to result in a wedge-like light sheet. The light source allows the geometry of the light sheet as well as the beam convergence to be set up.
Specification
Nd:YAG laser, max. power output 3 W, wave length 532 nm, continuous power output adjustment
beam divergence less than 1.0 mrad, stability of light power output less than ±1 % peak to peak
light sheet geometry:

continuous adjustment of sheet width from 1 to 40 mm
light sheet area can be adjusted in several discrete steps

frequency controlled beam modulation

with external TTL signal
with internal source of adjustable frequency between 1 and 1000 Hz

robust tripod – positioning and tilting with respect to longitudinal and lateral light sheet axes
π Shaper homogenised beam profile
standard TTL signal output for synchronisation with recording device (camera)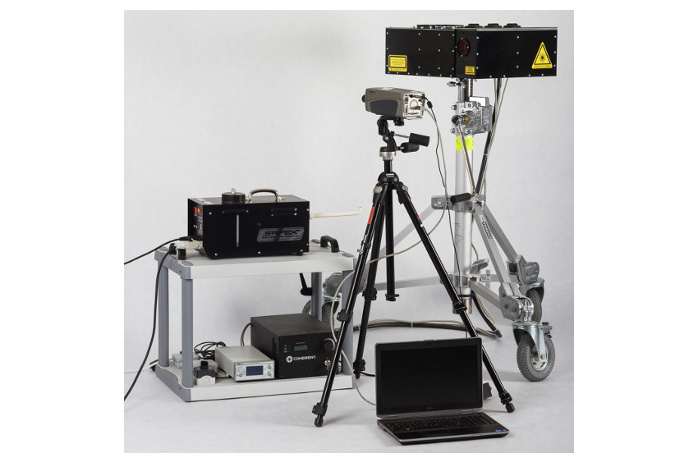 Typical applications
visualization and measurement of fluid flow

suitable for research into fast processes that exhibit 3D flow character

jet visualization by introducing particles, smoke or He-filled bubbles (available devices: Safex smoke/fog generator, Sage bubble generator, TSI 3433 powder dispenser)

image recording: Olympus i-Speed 2 high speed camera or digital SLR camera

suitable for application with fluorescent particles such as Rhodamine B marked particles


Contact person
Jan Jedelsky, Ph.D., Associate Professor
phone: +420 54114 3266 | e-mail: jedelsky@fme

vutbr

cz
Energy Institute, Department of Thermodynamics and Environmental Engineering
Faculty of Mechanical Engineering, Brno University of Technology
Technicka 2896/2, 616 69 Brno, Czech Republic
---
Download the above information as a brochure in
PDF (540 KB) or in

JPG (400 KB).